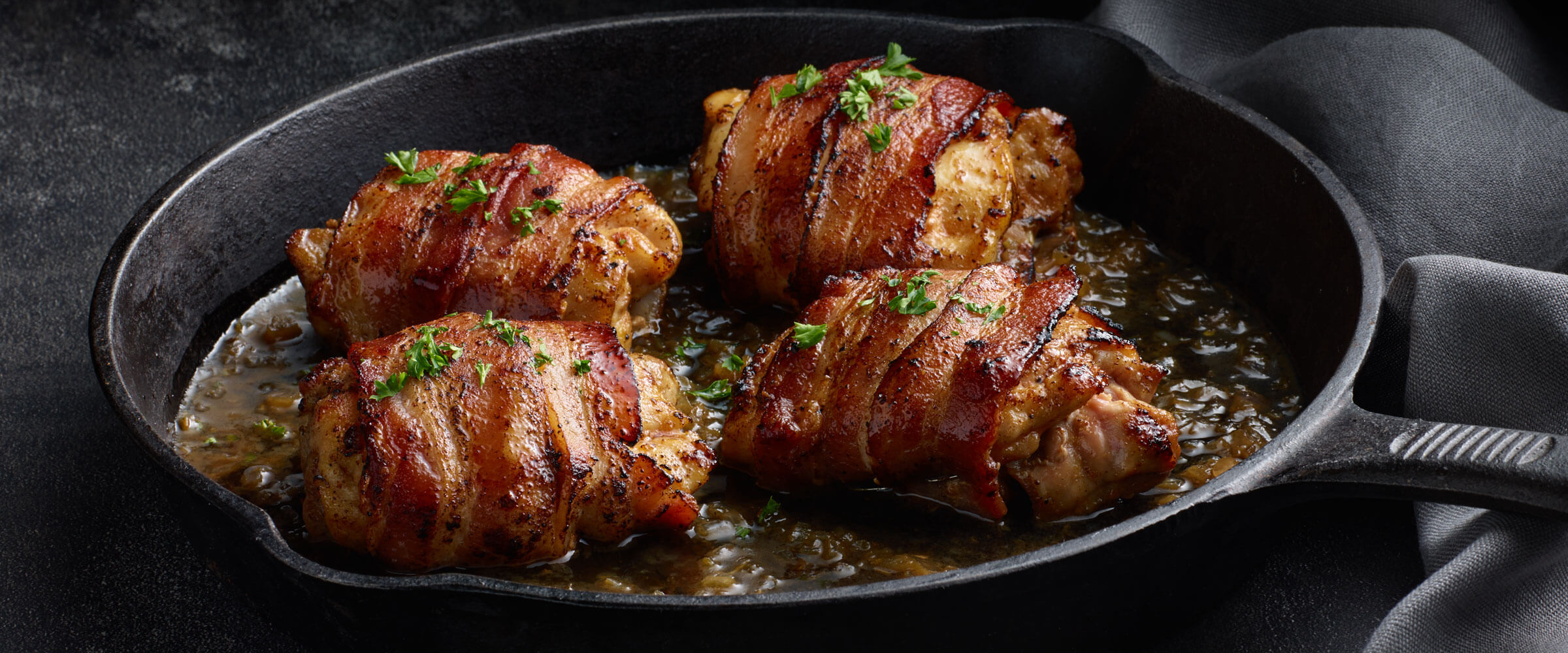 Indulge in the delicious combination of juicy chicken thighs wrapped in smoky apple cider-flavored bacon.
Infused with shallots, thyme, apple cider vinegar, and a perfect blend of seasonings, these bacon-wrapped chicken thighs are a must-try dish for any food lover. Impress your guests with this easy-to-make recipe that is sure to tantalize your taste buds. Get ready to savor the sweet and savory flavors of fall with every bite of these mouthwatering Apple Cider Bacon-Wrapped Chicken Thighs!
Prep Time
Cook Time
Meal Type
Cook Method
Ingredients
1

tablespoon brown sugar

¾

teaspoon salt

½

teaspoon freshly ground black pepper

½

teaspoon smoked paprika

½

teaspoon garlic powder

½

teaspoon onion powder

¼

teaspoon ground mustard

1

pound boneless skinless chicken thighs

½

(12-ounce) package HORMEL® BLACK LABEL® Apple Cider Bacon

2

tablespoons butter, divided

1

tablespoon minced shallots
1

½

teaspoons minced fresh thyme

1

tablespoon apple cider vinegar

½

cup apple cider
Chopped fresh parsley for garnish
Directions
Heat oven to 375°F.

In small bowl, combine brown sugar, salt, pepper, paprika, garlic powder, onion powder, and mustard. Pat chicken thighs dry with paper towel. Season both sides of each chicken thigh with spice mixture.

Wrap each seasoned chicken thigh with 1 slice bacon, securing with toothpick if needed. In preheated cast-iron skillet over medium heat, place bacon-wrapped chicken thighs. Cook 6 to 8 minutes, browning on all sides. Transfer skillet to oven. Bake 10 to 15 minutes or until internal temperature of chicken reaches 170°F. Remove from oven.

Remove chicken from skillet. Keep warm. Remove all but 1 tablespoon bacon drippings from skillet. Over medium heat add 1 tablespoon butter, shallots and thyme. Sauté 2 to 3 minutes or until shallots are tender. Stir in vinegar. Add apple cider. Simmer 1 to 2 minutes, or until mixture is slightly reduced. Off heat, swirl in remaining butter.

Return chicken to skillet. Spoon sauce over each chicken thigh. Top with parsley.