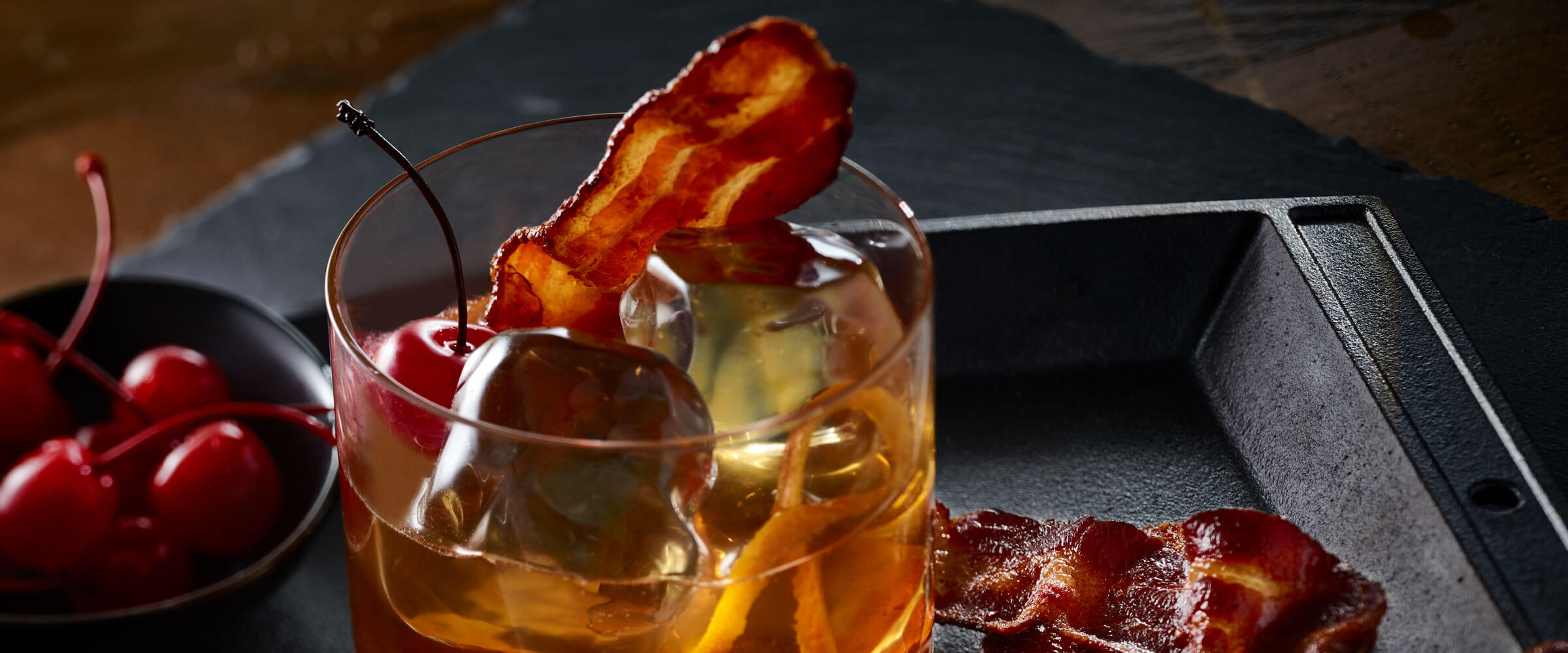 Prep Time
Cook Time
Meal Type
Cook Method
Ingredients
Bacon-Infused Bourbon

2

ounces bacon fat

4

ounces boiling water
1

½

cups bourbon
Manhattan

2

dashes cocktail bitters
Ice cubes
1

½

ounces bacon-infused bourbon

½

ounce dry vermouth

¼

ounce sweet vermouth

1

strip crisp, cooked HORMEL® BLACK LABEL® Premium Cherrywood Bacon, crisply cooked

1

cherry, for garnish

1

twist orange rind, for garnish
Directions
For the Bacon-Infused Bourbon
Melt bacon fat and strain into bowl.

Add boiling water. Stir well and leave until melted fat has set.

Remove set bacon fat, scraping off any sediment from bottom. Repeat melting process.

Combine bourbon and bacon fat in quart-size jar. Seal and shake vigorously.

Leave bourbon to infuse at room temperature 5 to 8 hours.

Put jar in freezer until all bacon fat has solidified at the surface of the bourbon, about 1 hour.

Remove and discard bacon fat. Strain bourbon through fine mesh sieve lined with 2 coffee filters.
For the Manhattan
Swirl bitters in chilled tumbler glass.

Fill cocktail shaker with large ice cubes. Add bacon-infused bourbon and vermouths.

Shake vigorously. Strain cocktail into chilled tumbler glass.

Garnish with bacon strip, skewered cherry, and orange rind. Makes 1.