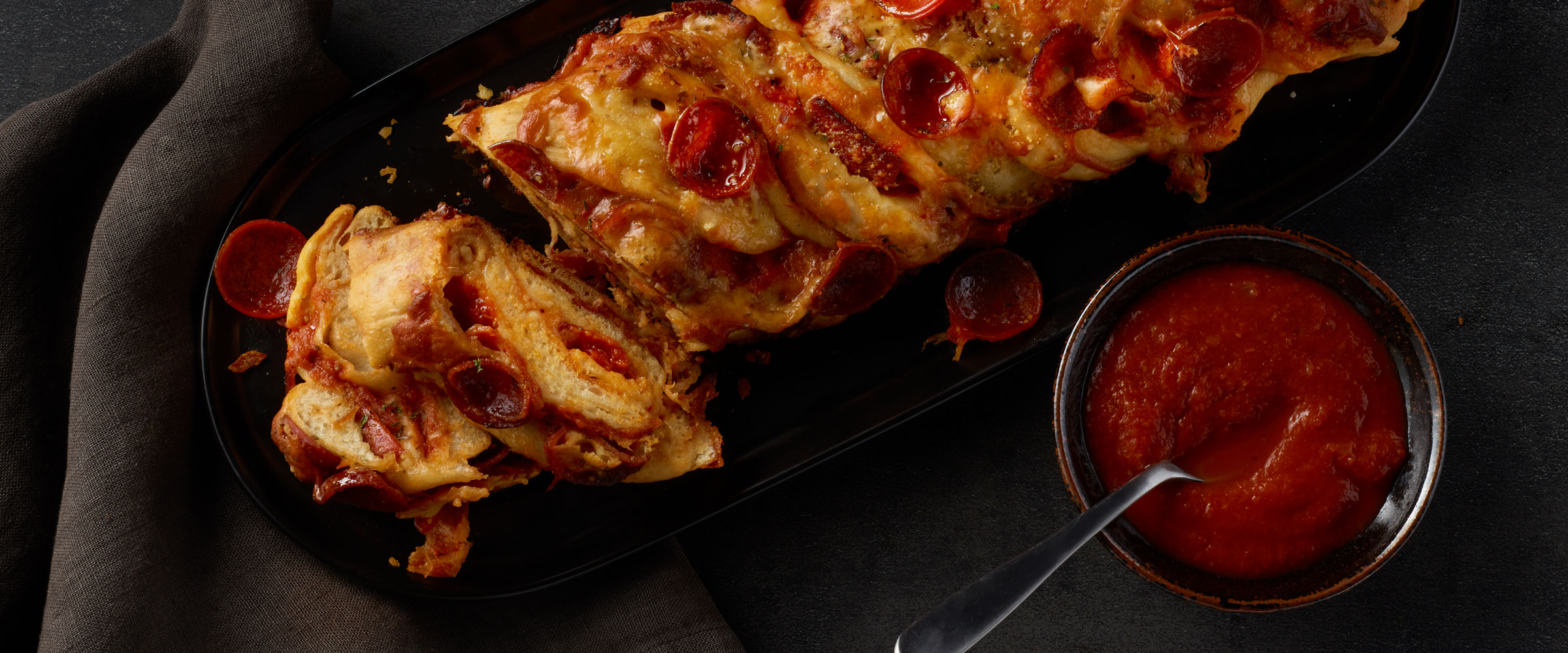 Prep Time
Cook Time
Meal Type
Cook Method
Ingredients
Pizza Dough

8

cups all-purpose flour

2

teaspoons kosher salt
2

½

teaspoons active dry yeast
2

⅔

cups lukewarm water
1 tablespoon olive oil plus extra for bags if you plan to save dough for later
Bread Twist

1

fluid ounce pizza sauce
1

½

cups mozzarella cheese, divided

2

(5-ounce) packages HORMEL® Pepperoni Cup N' Crisp, divided

¼

cup grated Parmesan cheese, divided

1

teaspoon Italian seasoning, divided

½

teaspoon garlic powder, divided
Marinara sauce
Directions
For the Pizza Dough
In large mixing bowl, whisk together flour, salt, and yeast. Add water and olive oil. Stir together with a sturdy spoon until a shaggy dough forms. Knead with floured hands or by stand mixer 10 minutes or until the dough is smooth, elastic and stretchy.

Return the dough to bowl. Cover bowl and let rise in a warm, draft-free place 1 to 2 hours or until doubled in size and puffy.

Divide the dough into desired size. Use hands to roll each piece of dough into a tight ball. Let rise 20 minutes.

This dough can be stored in the refrigerator for up to 6 days or in the freezer for up to 3 months before using.

To store: Label a zipper-top freezer bag with the size of the pizza. (Use one bag per round of dough for later use.) Drizzle 2 teaspoons olive oil in each bag, rub to coat inside of bag. Place one dough ball into each prepared bag.

To use refrigerated dough: Remove dough from refrigerator 1 hour before baking.

To use frozen dough: Place frozen dough in refrigerator one day before use. Remove dough from refrigerator 1 hour to come to room temperature before baking.
For the Bread Twist
Heat oven to 375°F. On lightly flour parchment paper, roll pizza dough into 11×5-inch rectangle. Spread pizza sauce over dough, leaving 1-inch space on all sides. Sprinkle ½ cup mozzarella cheese over sauce. Place half the pepperoni over cheese. Sprinkle ½ cup mozzarella cheese over pepperoni. Sprinkle 2 tablespoons Parmesan cheese, ½ teaspoon Italian seasoning, and ¼ teaspoon garlic powder over cheese.
Place ¾ of the remaining pepperoni over cheese.

Begin rolling the dough tightly on one of the long sides. It may be necessary to tuck in any pepperoni or cheese that falls out. After rolling, make sure the seam is on the bottom and pinch both ends closed. With a sharp knife, slice the dough in half lengthwise all the way through, leaving 1-inch at the top to hold it together. After slicing, the dough will probably fall open because it is so full. This is where it may be handy to have an extra set of hands, but it can be done alone. It might also be helpful to bring up the side of the parchment paper to contain the section of the dough you're working with. Carefully pick one of the sections and bring it over the other. Then do the same with the other section, continuing all the way down to braid the dough. The open portion of the dough should be facing up. Pinch the edges of the dough together.

Sprinkle bread with remaining ½ cup mozzarella cheese, Parmesan cheese, Italian seasoning, and garlic powder. Place the remaining pepperoni on top of bread.

Bake 50 to 60 minutes or until bread is cooked through. Cover with aluminum foil after 20 minutes to prevent the exposed pepperoni from browning too quickly.

Cool 5 minutes before slicing. Serve with marinara sauce.

Recipe Notes
Do the best you can twisting it. It doesn't have to be perfect. The good thing is that once it bakes, it comes together quite nicely and hides any mistakes you might think are an issue.