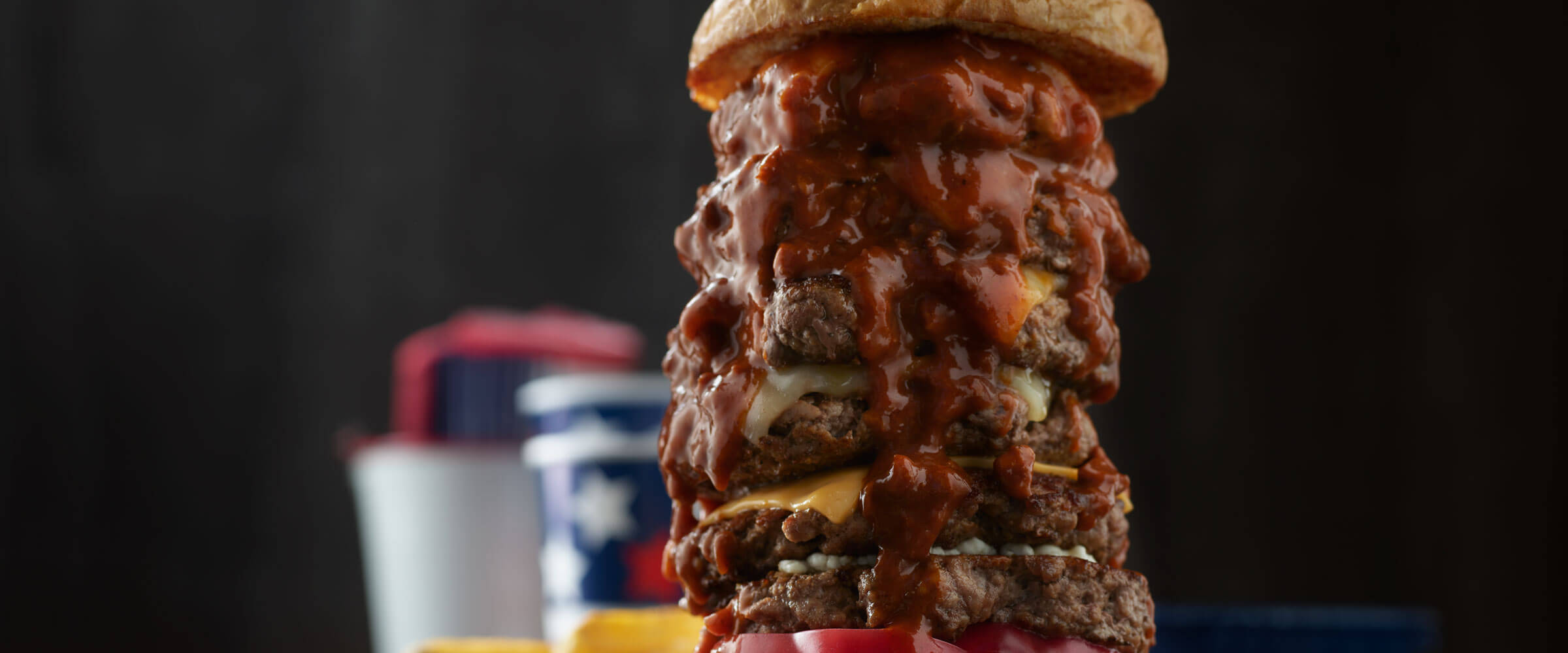 Introducing the G.O.A.T. Chili Burger, a flavor-packed sensation that takes your taste buds on a journey. Crafted ground beef and topped with a decadent blend of crumbled goat cheese, American cheddar, mozzarella, Colby jack, pepper jack, and Swiss cheeses. Elevate the experience with a generous pour of heated HORMEL® Chili with Beans, turning this burger into a culinary masterpiece that's truly the G.O.A.T.
Prep Time
Cook Time
Meal Type
Cook Method
Ingredients
1

½

pounds 80/20 ground beef
kosher salt
black pepper

1

tablespoon canola oil

⅓

cup goat cheese, crumbled

1

slice deli American cheddar cheese

1

slice deli mozzarella cheese

1

slice deli Colby jack cheese

1

slice deli pepper jack cheese

1

slice deli Swiss cheese
Iceberg lettuce, as desired
Tomato slices, as desired
1-4 burger buns, toasted, as desired

1

(15- ounce) can HORMEL® Chili with Beans, heated
Directions
Heat oven to 275°F.

Form ground beef into 6 patties. Liberally season with salt and pepper. Heat heavy bottom skillet over medium heat, add oil. Add 4 patties and smash each one down immediately with spatula. Cook burgers 1 ½ minutes on each side. Place cooked burgers on rimmed baking sheet and hold in warm oven. Repeat with remaining patties.

Remove burgers from oven. Top each burger with a different cheese. Return to oven. Warm 1 to 2 minutes or until cheeses are melted. Layer lettuce and tomato slices on bottom bun. Top with goat cheese burger, American burger, mozzarella burger, Colby jack burger, pepper jack burger and Swiss burger. Top all with heaping spoonful of chili and top of bun.

You can use the remaining burger buns to share or you can take the G.O.A.T. challenge and eat the burger yourself.

Feel free to add your favorite condiments.