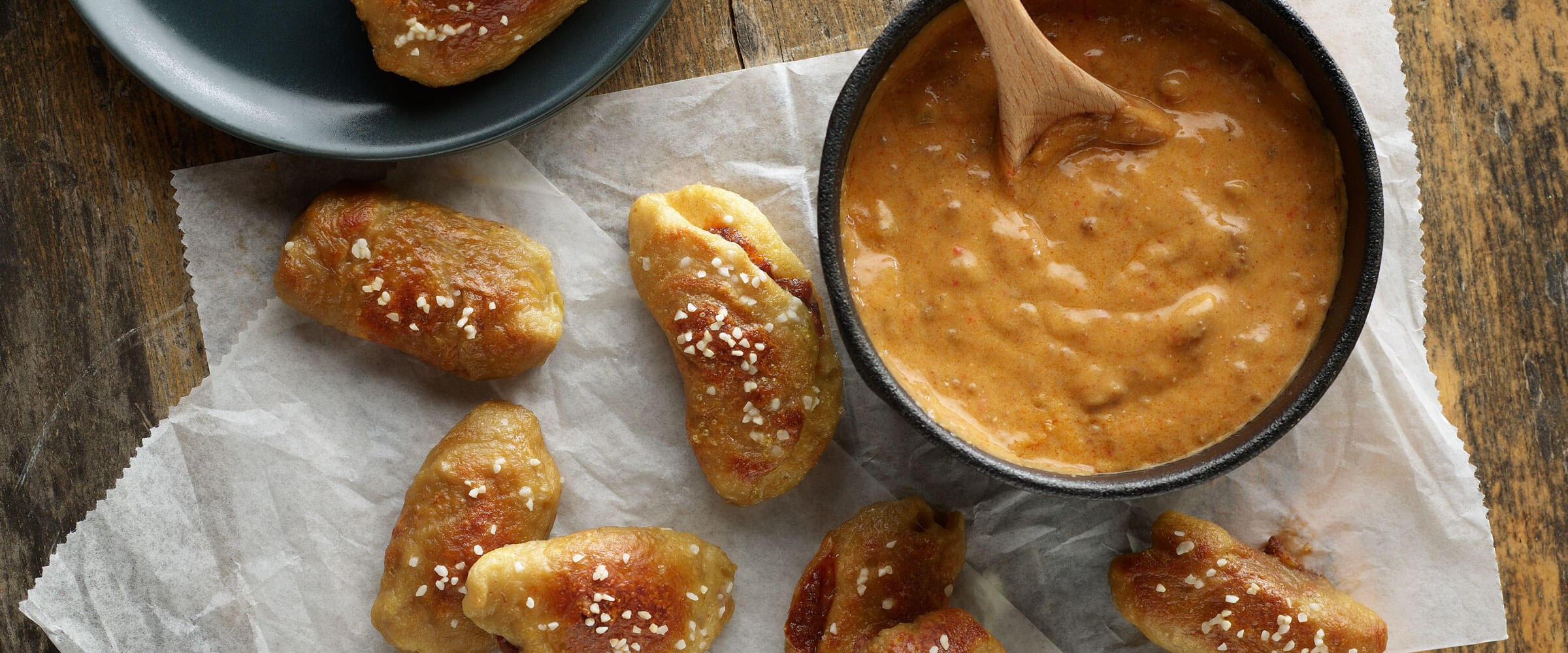 Elevate snack time with our Chili Stuffed Pretzel Bites, featuring homemade pretzels generously filled with zesty chili. Paired with a luscious chili cheese sauce made from a quick blend of chili, melted cheese, and sour cream, this mouthwatering treat is ready in under 30 minutes. Indulge in the perfect fusion of soft pretzels and savory chili cheese dip, delivering a deliciously satisfying snack that's both quick and irresistible.
Prep Time
Cook Time
Meal Type
Cook Method
Ingredients
| | |
| --- | --- |
| 1 | pound frozen bread dough, thawed |
| 1 | (15-ounce) can HORMEL® Angus Beef Chili No Beans |
| 10 | cups water |
| ⅔ | cup baking soda |
| 1 | egg |
| 2 | tablespoons water |
| | Pretzel salt |
| ½ | cup shredded sharp cheddar cheese |
| ⅓ | cup sour cream |
Chili Cheese Sauce
remaining chili, cheese and sour cream
Directions
Heat oven to 425°F. Line a large, rimmed baking sheet with parchment paper.

Cut dough into four equal pieces. Use hands to roll each piece of dough into a rope about 1 1/2 -inch thick. Slice rope into 1 1/2-inch pieces.

Using your palm, flatten one piece of dough. Spread one heaping teaspoon of chili in the middle of dough piece. Gently pull the dough up and over the chili and pinch dough together. Form into the pretzel bite shape. Repeat with remaining dough pieces.

Bring 10 cups water to a boil in a large stock pot. Slowly add baking soda (it will bubble up). Working in batches, add bites to boiling water. Cook 1 minute, flip over and cook 1 minute. Use a slotted spoon to transfer to the prepared baking sheet. Make sure excess water drips off.

In small bowl, whisk egg and water together. Brush pretzels with egg wash. Sprinkle with pretzel salt.

Bake 12 to 15 minutes or until golden brown.
For the Chili Cheese Sauce
In small microwave-safe bowl add remaining chili, cheese and sour cream.

Stir to combine. Season with salt and pepper. Microwave on HIGH 1 minute. Stir. Microwave again 30 seconds. Stir again. Cook another minute until hot and cheese has melted.

Serve pretzel bites with chili cheese sauce.