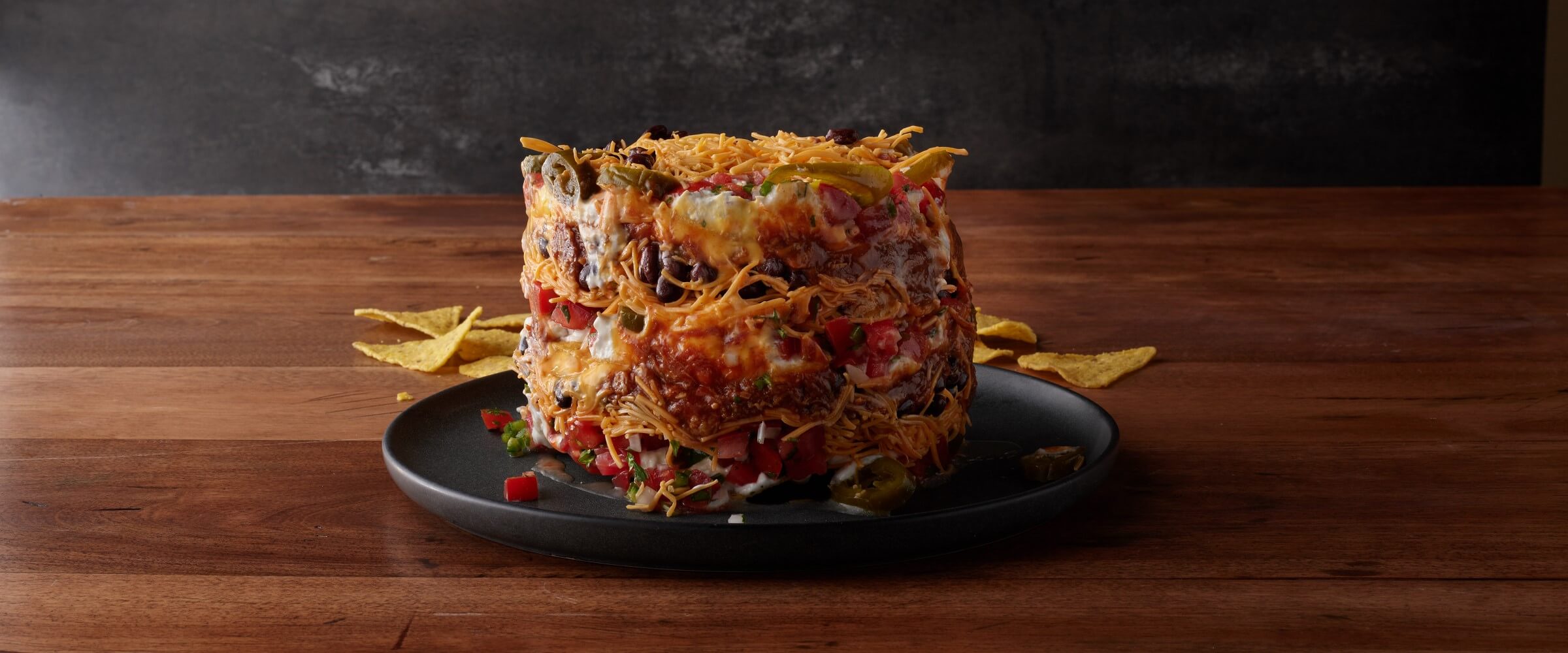 Get ready for the ultimate nacho experience with BBQ Chicken Trash Can Nachos! Made with savory heat-and-eat LLOYD'S® Hardwood Smoked & Seasoned Pulled Chicken with Pig Beach BBQ Sauce, black beans, cheddar cheese, jalapenos, nacho cheese, sour cream, pico de gallo, and more, these nachos are loaded with flavor and texture. This dish is perfect for sharing with friends and family and adds a fun and unique touch to your mealtime. The barbeque pulled chicken pairs perfectly with the melted cheddar cheese and the heat from the jalapenos and hot sauce, while the creamy sour cream and tangy pico de gallo balance out the flavors. Whether you're looking for a game-day snack or a meal that's sure to satisfy, BBQ Chicken Trash Can Nachos are a must-try.
Prep Time
Cook Time
Meal Type
Cook Method
Ingredients
2

cups nacho cheese sauce, heated

1

(10 to 12-ounce) bag tortilla chips

1

(16-ounce) LLOYD'S® Hardwood Smoked & Seasoned Pulled Chicken with Pig Beach BBQ Sauce, heated according to package directions

1

(15-ounce) can black beans, rinsed and drained

2

cups shredded cheddar cheese

1

cup sliced pickled jalapenos

2

cups Pico de Gallo
1

½

cups sour cream
Hot sauce, as desired
Directions
In bottom of a large, clean and empty tin can, spread a thin layer of cheese sauce. Using a ¼ of the tortilla chips, make an even layer of chips over the cheese sauce. Layer with 1/3 of the remaining cheese sauce, 1/3 of the chicken, 1/3 of the black beans, 1/3 of the shredded cheese, 1/3 of the jalapenos, 1/3 of the Pico de Gallo, and 1/3 of the sour cream. Drizzle with hot sauce.

Repeat layering chips, cheese sauce, chicken, black beans, shredded cheese, jalapenos, Pico de Gallo, sour cream, and hot sauce two more times. Place another layer of chips on top. Place a dinner plate on top of the can and carefully flip over. Slowly remove the tin from the nachos.