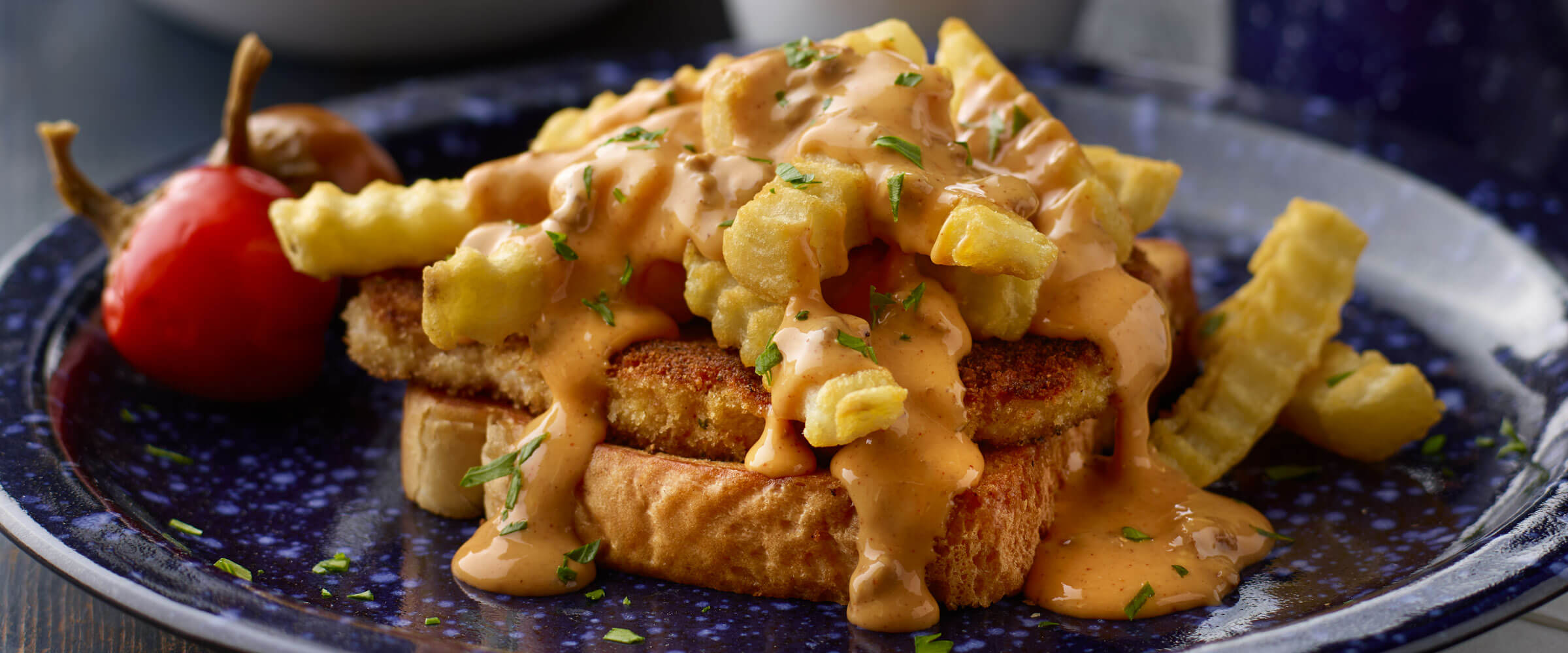 Delight your taste buds with our Breaded Pork Chili-Cheese Horseshoe Sandwich, a flavorful feast that combines crispy HORMEL® Thin Center Cut Pork Chops with a rich and savory chili-cheese sauce. The tender pork, coated in seasoned flour and breadcrumbs, is perfectly complemented by the creamy blend of HORMEL® Chili No Beans, processed cheese, cream cheese, beer, and Worcestershire sauce. Each bite, served on toasted and buttered Texas toast, is a symphony of textures and tastes. Garnished with fresh parsley and pickled cherry peppers, this dish is a flavorful journey that elevates your dining experience to new heights.
Prep Time
Cook Time
Meal Type
Cook Method
Ingredients
| | |
| --- | --- |
| 4 | cups frozen French-fried potatoes |
| 1 | cup flour seasoned with seasoned salt |
| 2 | large eggs, well beaten |
| 1 | cup seasoned dry fine breadcrumbs |
| 3 | tablespoons butter or vegetable oil |
| 8 | HORMEL® Thin Center Cut Pork Chops |
| 1 | (15-ounce) can HORMEL® Chili No Beans |
| 1 | (16-ounce) loaf processed cheese product, cubed |
| 1 | (8-ounce) package cream cheese |
| ¼ | cup beer, room temperature |
| 1 | teaspoon Worcestershire sauce |
| 8 | slices Texas toast, toasted and buttered |
| | Chopped fresh parsley, for garnish |
| | Pickled cherry peppers, for garnish |
Directions
Cook potatoes according to package directions.

In each of three shallow dishes, place flour, eggs and breadcrumbs.

In large skillet, melt butter over medium-high heat.

Quickly dip each pork chop into flour, then egg, then breadcrumbs; place in skillet. Cook slowly, reducing heat if needed, until pork is browned, and juices run clear when pierced with tip of knife.

In large microwave-safe bowl, combine chili, cheese product, cream cheese, beer and Worcestershire sauce. Microwave on HIGH (100%) 5 minutes, stirring after 3 minutes.

To serve, place 1 slice toast on individual serving plate; top with 1 pork chop, fries and chili cheese sauce. Garnish with parsley and pickled peppers.