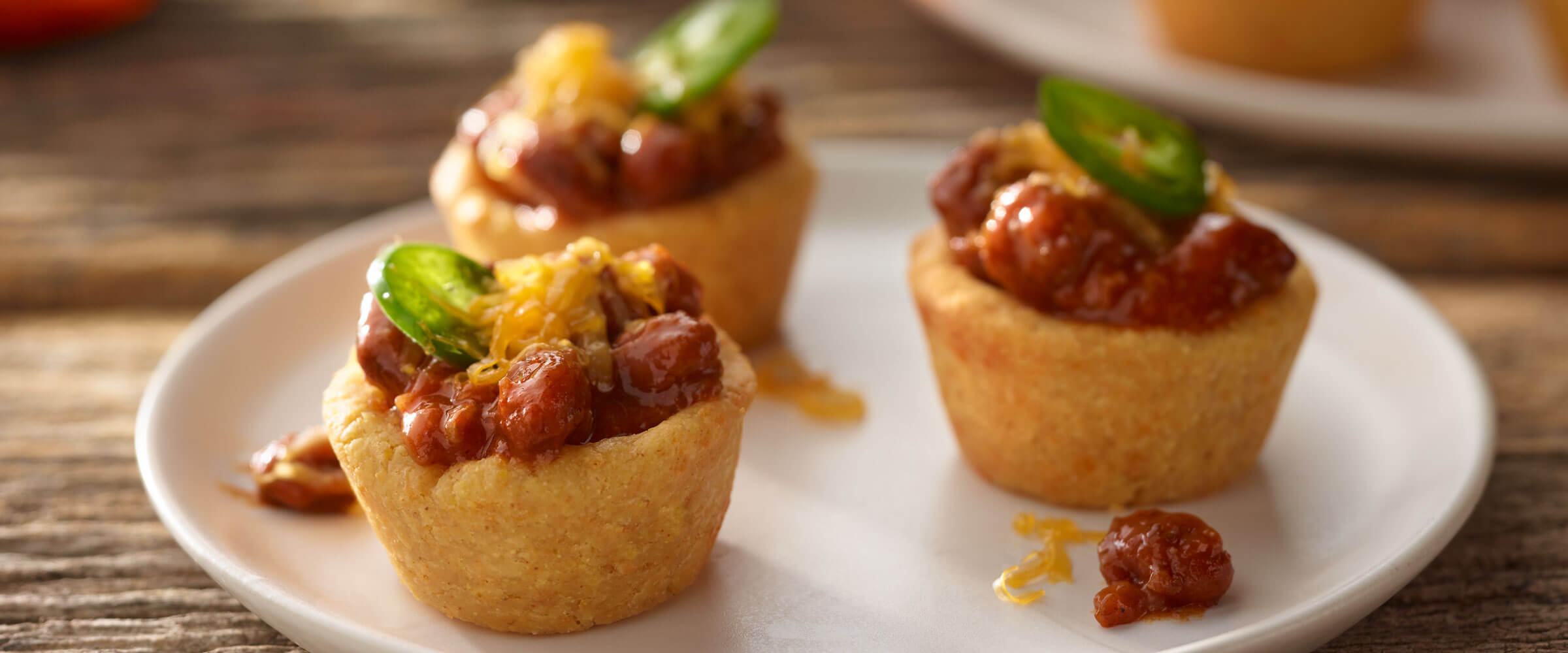 Perfect for entertaining or satisfying your snack cravings, these mini treats offer a harmonious blend of sweet and savory flavor. Each bite is a fusion of homemade corn muffins, generously filled with zesty chili and gooey cheese. Topped off with a dollop of cooling sour cream, a kick of jalapeño slices, and a sprinkle of fresh cilantro, these bite-sized delights are a flavor-packed sensation.
Prep Time
Cook Time
Meal Type
Cook Method
Ingredients
1

cup all-purpose flour

⅜

cup yellow cornmeal
1

½

cups shredded extra sharp Cheddar cheese, divided

6

tablespoons cold butter, cubed

½

teaspoon kosher salt

¼

teaspoon garlic powder

¼

teaspoon chili powder

1

large egg, lightly beaten

2

tablespoons ice water

1

(15-ounce) can HORMEL® Chili with Beans, heated
Sour cream, fresh cilantro leaves, thinly sliced jalapeño
Directions
Heat oven to 450°F.

In food processor, combine flour, cornmeal, ½ cup cheese and next 5 ingredients. Pulse until crumbly. Add water and pulse until dough forms a ball. (add more water, in 1 tablespoon increments, if needed)

Roll dough into 1-inch balls and place each ball in cups of a lightly greased mini-muffin tin. Press dough into bottom and up sides.

Bake 8 to 10 minutes or until lightly browned. Spoon chili into each cup. Top with remaining 1 cup cheese and bake 3 minutes or until cheese is melted. Carefully remove from muffin tin, using small utility spatula. Top with sour cream, jalapeño slices and cilantro.