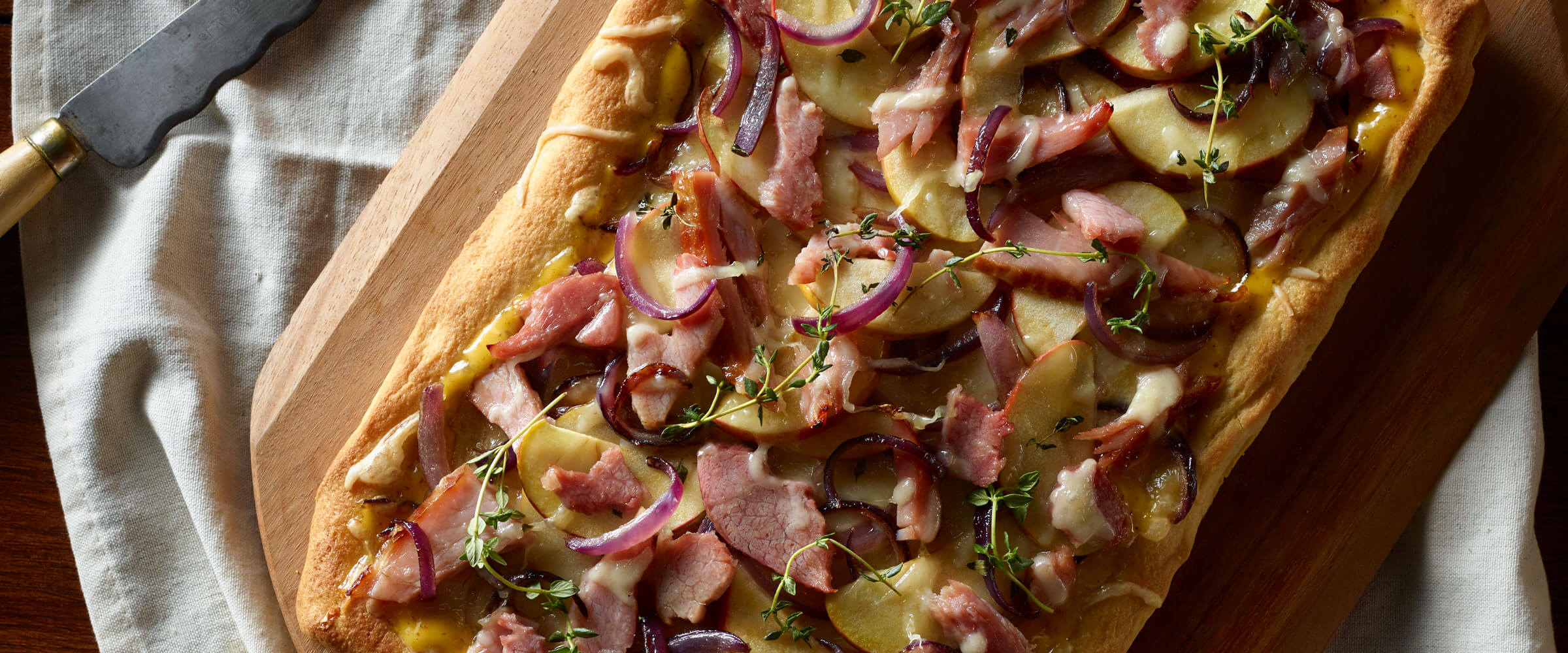 Prep Time
Cook Time
Meal Type
Cook Method
Ingredients
| | |
| --- | --- |
| 2 | tablespoons butter |
| 1 | large red onion, thinly sliced |
| 1 | kilogram pizza dough (thawed if frozen) |
| 2 | ounces thinly sliced HORMEL® CURE 81® Classic Boneless Ham |
| 1 | small red cooking apple, cored, quartered and thinly sliced |
| 1 | cup shredded Swiss cheese |
| | Fresh thyme (optional) |
| | Coarse salt and freshly ground black pepper |
Directions
Place oven rack in lowest position. Heat oven to 450°F. Lightly coat a large baking sheet with nonstick cooking spray; set aside.

In large skillet, melt butter over medium-low heat. Add onion. Cook covered 12 minutes, or just until tender.

Uncover onions. Cook and stir over medium-high heat for 3 to 5 minutes more, or until very tender. Remove from heat; set aside.

On lightly floured surface, roll out and press pizza dough into an irregular rectangular shape, about 13×9 inches. Transfer to prepared pan. Build up edges. Prick generously with a fork. Bake 8 minutes, or until puffed and lightly crisped on the bottom.

Top with ham, caramelized onion, apple and cheese. Bake 10 minutes more, or until crust is crispy and golden and the cheese is melted. Sprinkle with fresh thyme, if desired. Season to taste with salt and pepper.