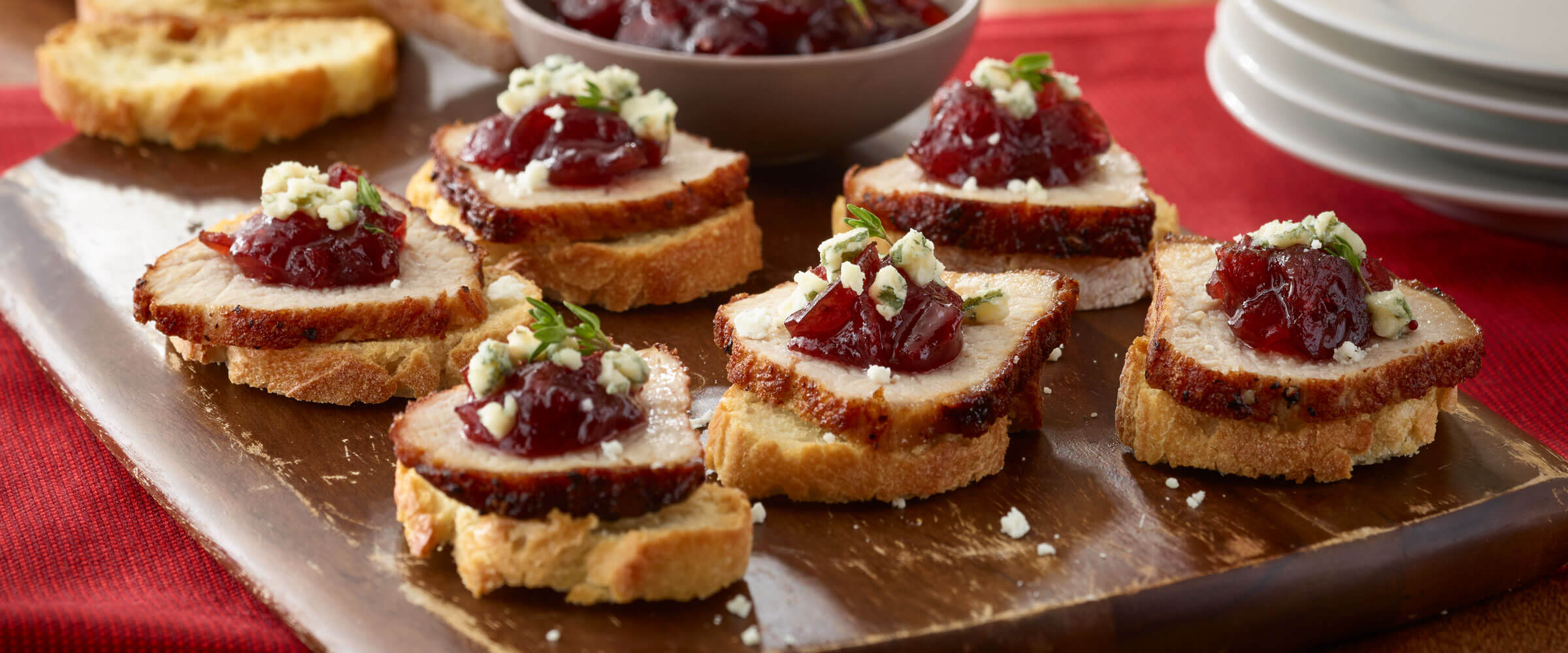 Elegant Pork and Apple-Cranberry Chutney Crostini make a fantastic appetizer for any occasion. The combination of the tender and flavorful HORMEL® Pork Tenderloin, the sweet and tangy apple-cranberry chutney, and the creamy blue cheese creates a mouthwatering balance of flavors. Enjoy this delightful dish with friends and family!
Prep Time
Cook Time
Meal Type
Cook Method
Ingredients
| | |
| --- | --- |
| 1 | HORMEL® Pork Tenderloin |
| 1 | teaspoon kosher salt |
| ½ | teaspoon freshly ground pepper |
| 2 | tablespoons vegetable oil |
| 1 | long baguette-style French bread loaves, sliced and toasted |
| ¾ | cup apple-cranberry chutney, or substitute with black cherry preserves |
| | crumbled blue cheese |
| | Fresh thyme leaves, for garnish |
Directions
Heat oven to 425°F.

Sprinkle pork with salt and pepper.  In large ovenproof skillet, heat oil, over medium-high heat. Cook pork 5 minutes on each side or until browned.

Insert meat thermometer into thickest part of pork. Bake uncovered 35 to 40 minutes or until internal temperature reads 155°F. Cover pork with aluminum foil and let stand 15 minutes or until thermometer reaches 160°F.

Slice pork into thin slices.

Top each bread slice with one pork slice with 1 teaspoon chutney and ½ teaspoon cheese.  Garnish with thyme leaves, if desired.