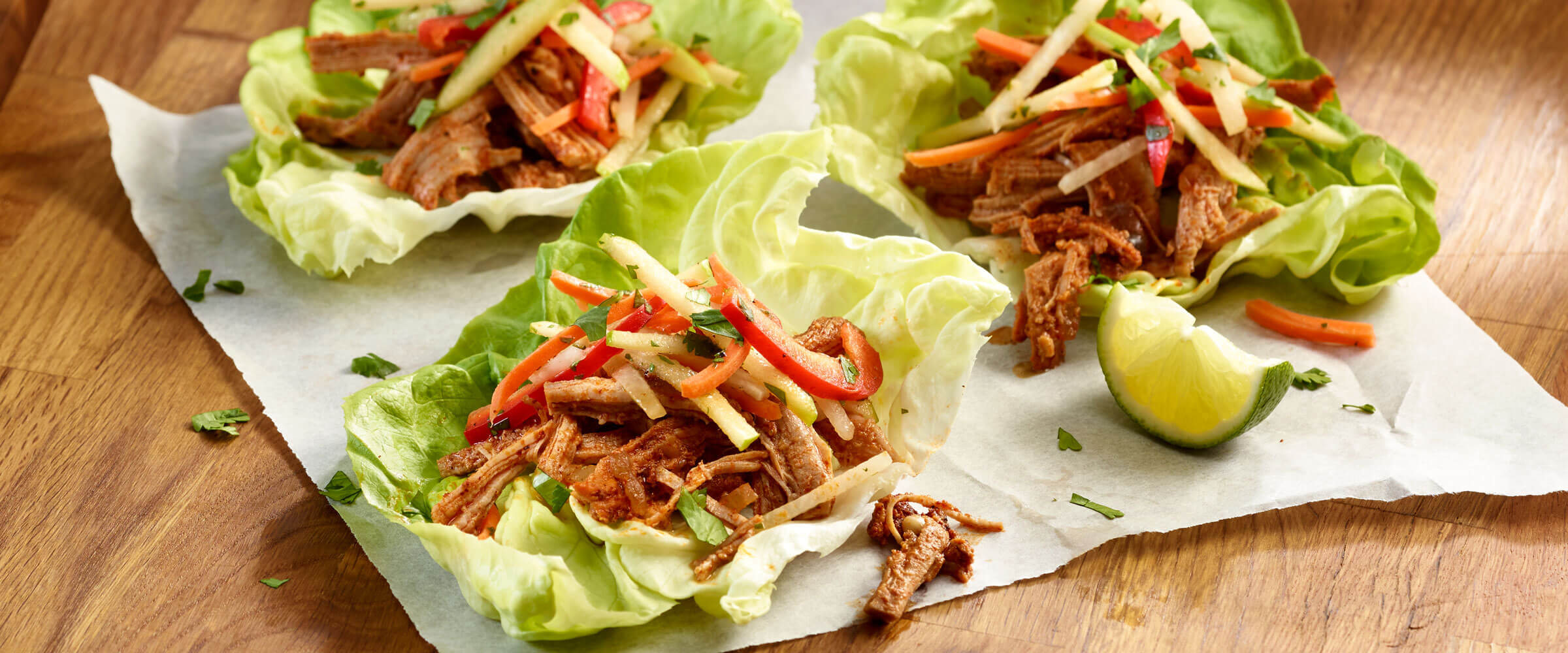 Experience a burst of flavors with our Apple Bourbon Pork Lettuce Wraps featuring tender HORMEL® Pork Tenderloin, crisp lettuce leaves, and a refreshing jicama slaw. These easy-to-make wraps offer a perfect balance of sweet and savory, complemented by the crunch of jicama. Elevate your dining experience with this delicious and light recipe perfect for summertime.
Prep Time
Cook Time
Meal Type
Cook Method
Ingredients
2

(1-pound) packages HORMEL® Pork Tenderloin

3

garlic cloves, minced

1

tablespoon chili powder
1

½

teaspoons round cumin

1

teaspoon kosher salt

½

teaspoon freshly ground pepper

1

large onion, sliced

1

cup chicken broth

½

small jicama, cut into matchsticks

1

cup matchstick carrots

1

small Granny Smith apple, cut into matchsticks

½

red bell pepper, thinly sliced

3

tablespoons lime juice

2

tablespoons olive oil

2

tablespoons chopped fresh cilantro
Salt and pepper to taste

24

Bibb or Boston lettuce leaves
Directions
In small bowl, stir together garlic and next 4 ingredients. Rub over pork. Transfer pork to a 5-qt. slow cooker. Add onion and broth. Cook, covered, on low 6 hours.

In medium bowl stir together jicama and next 6 ingredients. Season with salt and pepper to taste.

Remove pork; cool slightly. Shred meat. Serve in lettuce leaves with jicama slaw.