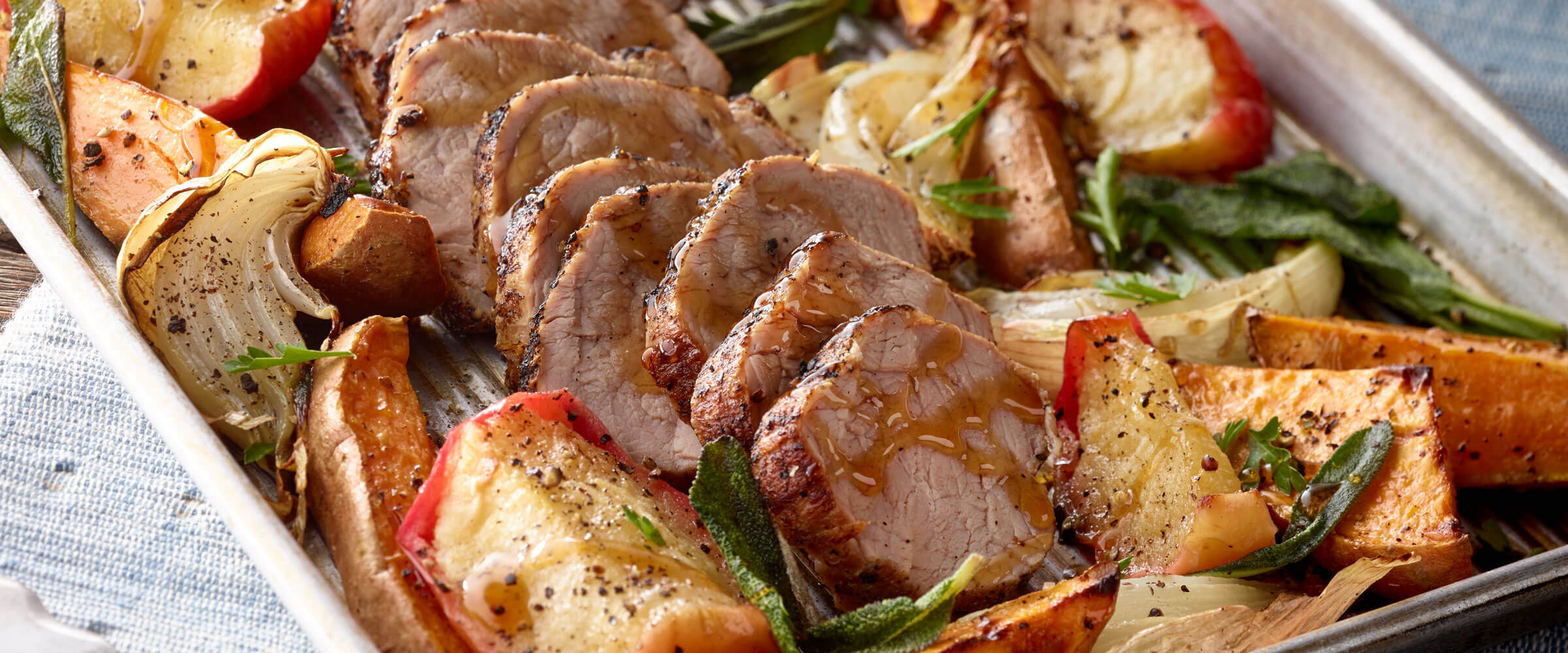 Pork Tenderloin, Sweet Potatoes and Apples Sheet Dinner makes a comforting meal and is a breeze to clean up. HORMEL® Original Pork Tenderloin, sweet potatoes, and apples are tossed in a simple blend of sage-infused butter. The flavors of the ingredients are enhanced when drizzled with maple syrup and a touch of lemon juice. This dish is easy to prepare and perfect for a weeknight meal.
Prep Time
Cook Time
Meal Type
Cook Method
Ingredients
| | |
| --- | --- |
| ½ | cup butter, melted |
| 1 | tablespoon fresh sage leaves, thinly sliced |
| 1 | teaspoon salt |
| ½ | teaspoon black pepper |
| 2 | medium sweet potatoes, quartered |
| 2 | medium apples, cored and quartered |
| 1 | medium sweet onion, cut into 1-inch pieces |
| 1 | package of HORMEL® Original Pork Tenderloin |
| ½ | cup maple syrup |
| 1 | tablespoon lemon juice |
Directions
Heat oven to 425°F.

Spray large, rimmed sheet pan with cooking spray.

In large bowl, stir together butter and next three ingredients. Add sweet potatoes, apples and onions; toss to coat.

Using tongs or slotted spoon, transfer to pan in a single layer. Add pork to bowl and toss to coat. Place pork on sheet pan with sweet potato mixture.

Bake 25 minutes or until internal temperature reaches 155°F.

Meanwhile, in medium saucepan, heat maple syrup to just boiling over medium heat. Reduce heat to low, cook for 7-8 minutes. Remove from heat, stir in lemon juice. Set aside.

Slice pork. Place potato mixture on top of pork. Drizzle with maple syrup.