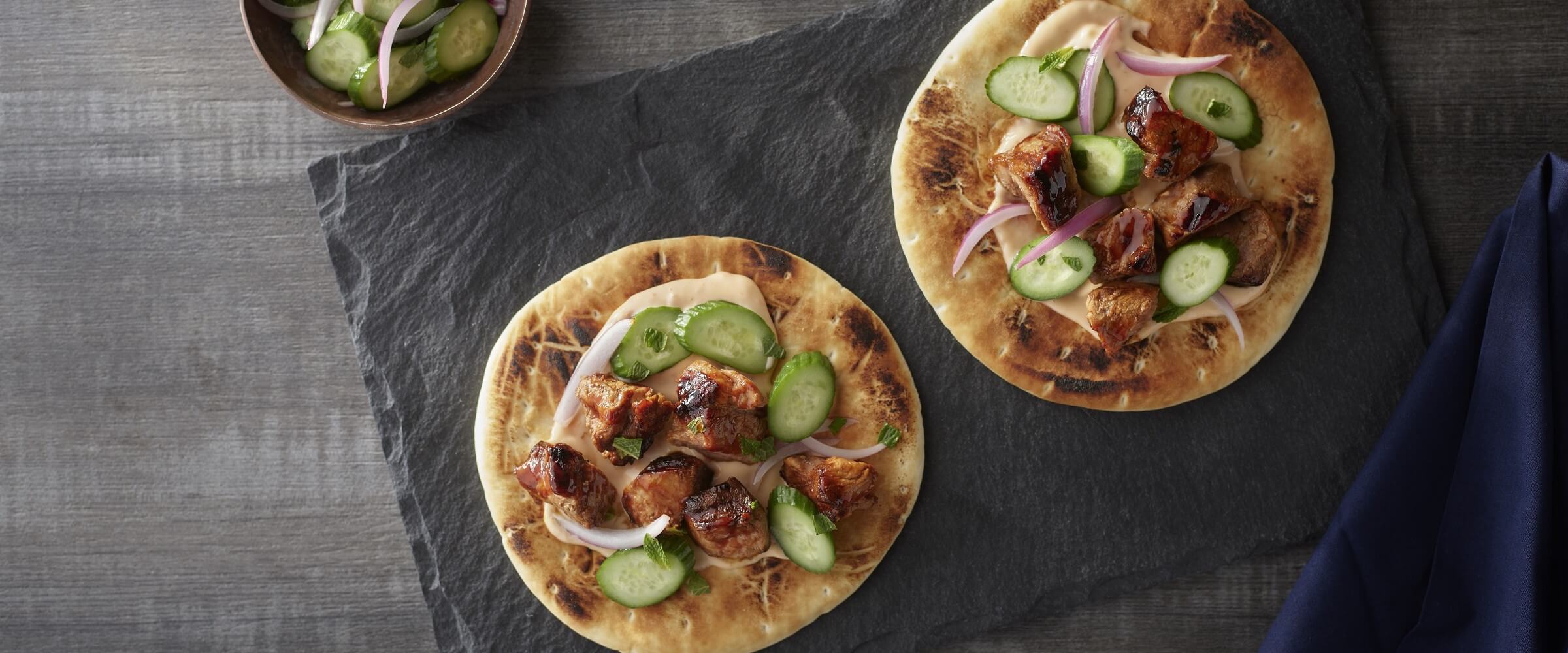 Prep Time
Cook Time
Meal Type
Cook Method
Ingredients
| | |
| --- | --- |
| 1 | (1 ¼-pound) package HORMEL® ALWAYS TENDER® pork tenderloin, cubed |
| ¼ | cup HOUSE OF TSANG® General Tso sauce |
| 2 | teaspoons HOUSE OF TSANG® stir-fry oil |
| 4 | pita bread |
| ½ | cup mayonnaise |
| 3 | tablespoons HOUSE OF TSANG® Sweet Chili sauce |
| 1 | tablespoon rice vinegar |
| 1 | tablespoon chopped fresh mint |
| 1 | teaspoon HOUSE OF TSANG® sesame oil |
| 2 | teaspoons sugar |
| 2 | small cucumbers, sliced |
| ¼ | cup sliced red onion |
Directions
Prepare grill for medium-high heat. Grease grill. In medium bowl, combine pork and sauce; stir to combine. Thread pork onto 4 metal skewers. Grill 8 to 10 minutes or until pork is cooked to your liking, turning occasionally; keep warm.

Brush oil on both sides of each pita bread. Grill 2 minutes each side of until grill marks appear. In small bowl, combine mayonnaise and sweet chili sauce; set aside. In small bowl, combine vinegar, mint, sesame oil, sugar, cucumbers and onion. Toss to combine.

Place pita breads on boards or plates. Spread half mayonnaise mixture on pita bread. Place pork skewer on bread. Spoon cucumber salad over top. Spoon remaining mayonnaise mixture over salad and pork.