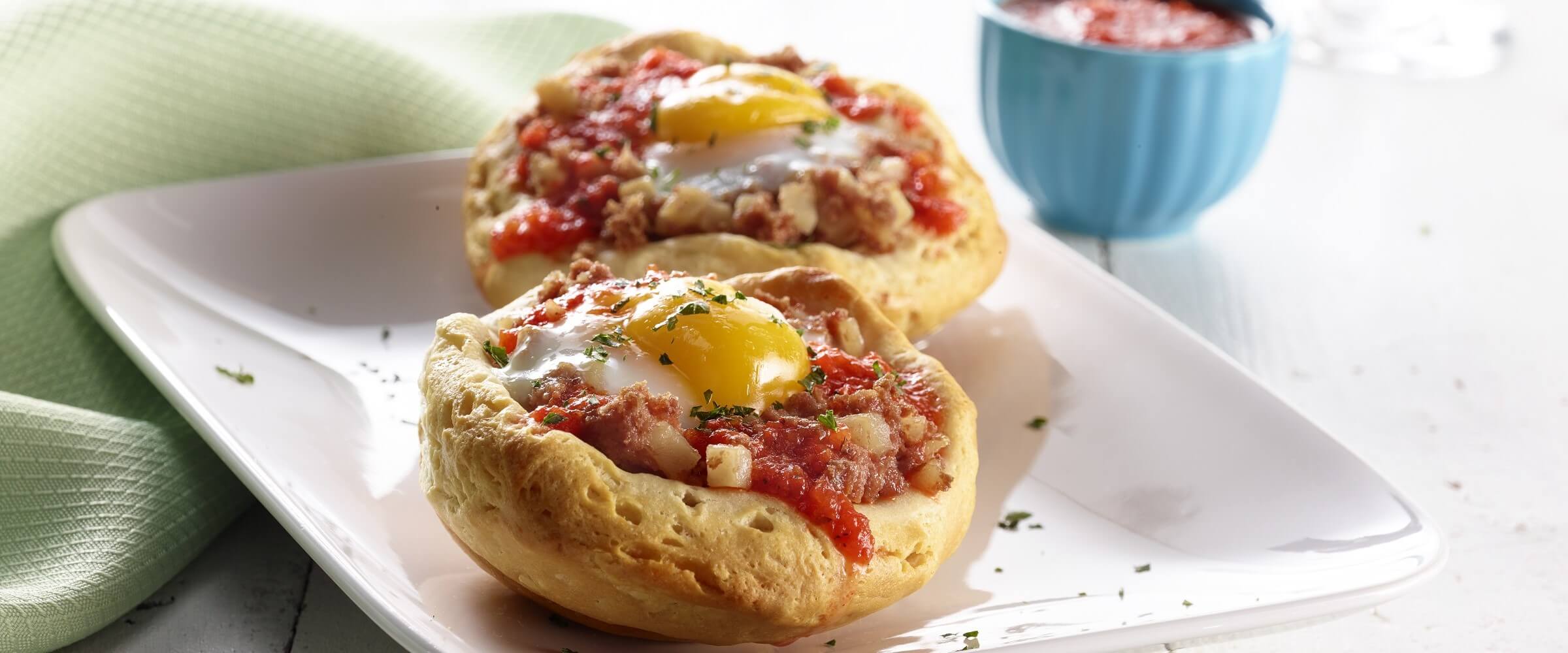 Start your morning with a delightful and portable breakfast by trying our Corned Beef Hash Breakfast Cups. These delicious cups feature a savory combination of corned beef hash and eggs, nestled inside flaky buttermilk biscuits. To add an extra kick of flavor, we top them with a zesty red pepper sauce. The combination of tender corned beef, creamy egg, and the buttery biscuit creates a satisfying and flavorful breakfast experience. The tangy and spicy red pepper sauce adds a vibrant twist, elevating the overall flavor.
Prep Time
Cook Time
Meal Type
Cook Method
Ingredients
| | |
| --- | --- |
| 1 | can HORMEL® MARY KITCHEN® Corned Beef Hash |
| 1 | can buttermilk biscuit dough |
| 8 | eggs |
| | |
| --- | --- |
| 1 | cup roasted red peppers |
| 3 | cloves garlic |
| 1 | lemon, juiced |
| 1 | tablespoon extra virgin olive oil |
| 1 | teaspoon coarse salt |
| | chopped Italian parsley for garnish |
Directions
For the Breakfast Cups
Heat oven to 350˚F. Using rolling pin, roll flat each biscuit and mold over the back of a large muffin tin. Use dough for 8 biscuits. Bake for 7 minutes, then cool for 10 minutes. Turn oven temp down to 325˚F.

Place cooled biscuit cups on a baking sheet, open side up. Fill each cup with 2-3 tablespoons corned beef hash and form an indentation with your fingers or a tablespoon.

Crack an egg into each cup. Return to oven and bake for 15 minutes or until egg whites are set.

Serve cups drizzled with red pepper sauce and topped with parsley garnish.
For the Red Pepper Sauce
In food processor or blender, combine ingredients for red pepper sauce and blend until smooth.