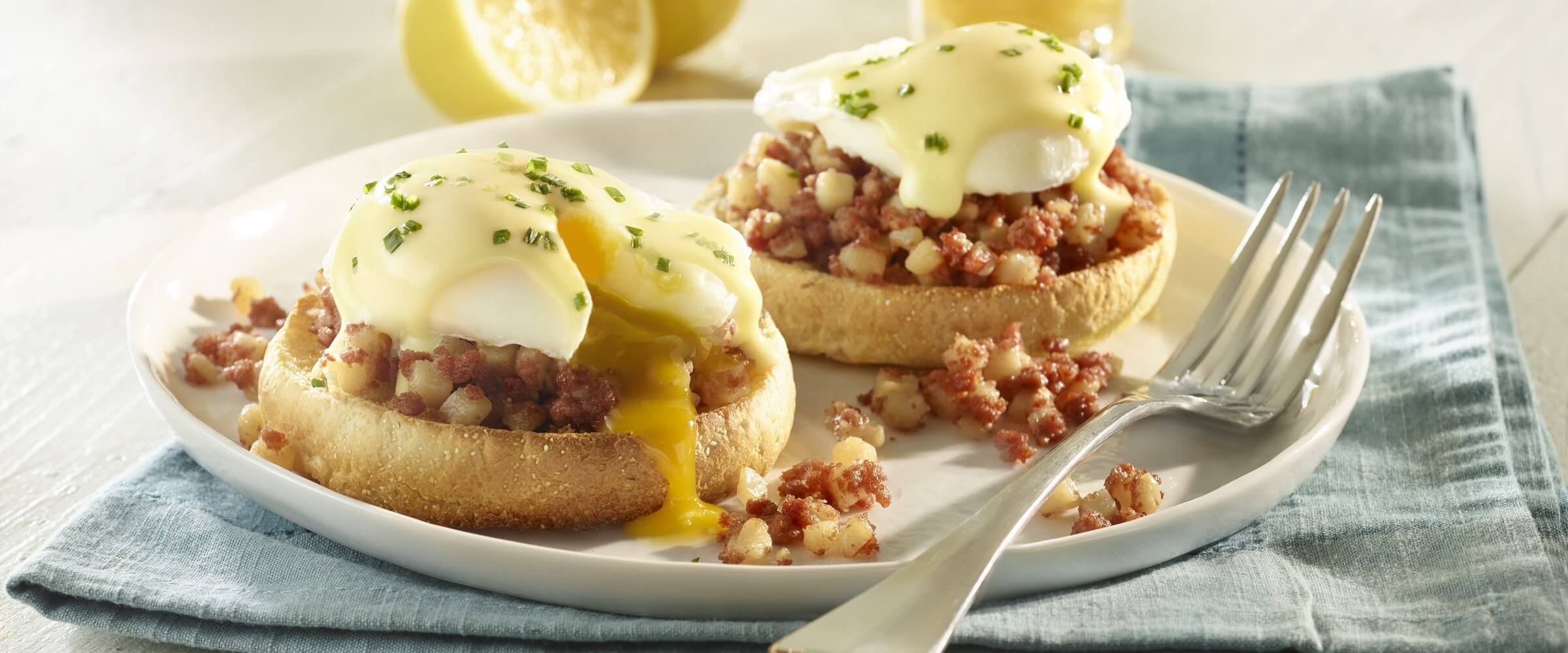 Indulge in a breakfast classic with a twist by savoring our Eggs Benedict with Corned Beef Hash served on a toasted English muffin. This delightful dish combines the elegance of Eggs Benedict with the savory flavors of corned beef hash. Imagine a perfectly poached egg sitting atop a bed of flavorful and tender corned beef hash, nestled on a golden and toasted English muffin. The dish is then finished with a velvety hollandaise sauce, adding a creamy and tangy element to every bite. The combination of the rich yolk, savory hash, and buttery muffin creates a harmonious symphony of flavors that will tantalize your taste buds.
Prep Time
Cook Time
Meal Type
Cook Method
Ingredients
| | |
| --- | --- |
| 4 | large eggs |
| 2 | English muffins, split and toasted |
| 1 | (14-ounce) can HORMEL® MARY KITCHEN® Corned Beef Hash |
| 1 | (1.25-ounce) package Hollandaise sauce mix |
| 1 | teaspoon grated lemon rind |
| 2 | teaspoons chopped fresh chive leaves |
| | Freshly ground pepper |
Directions
Add water to a depth of 3 inches in a large saucepan. Bring to a boil; reduce heat, and simmer. Add 1 1/2 teaspoons vinegar. Crack eggs into small bowls and lower into water, one at a time, as close as possible to surface. Simmer 3 minutes or to desired degree of doneness. Remove eggs with a slotted spoon.

Heat corned beef hash according to package directions. Make Hollandaise sauce according to package directions. Stir in lemon rind and chives.

Spoon hash over English muffin halves, top with 1 egg each and desired amount of Hollandaise sauce. Sprinkle with pepper if desired. Serve immediately.