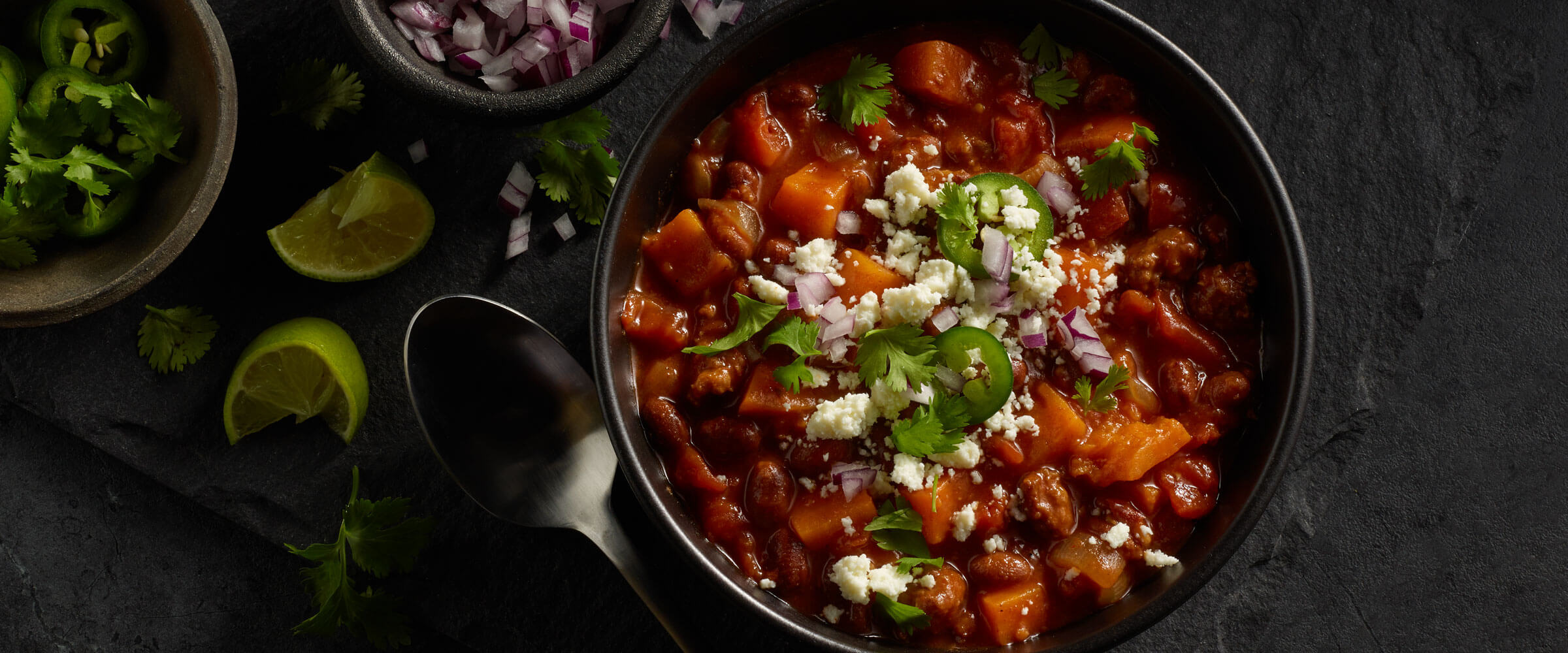 Experience the rich and hearty flavors of our Sweet Potato Chili—a delectable fusion of tender sweet potatoes, savory HORMEL® Chili with Beans, and aromatic spices. In a medley of olive oil, onions, and garlic, the sweet potatoes simmer alongside diced tomatoes to create a harmonious blend. Finish with a burst of freshness from chopped cilantro and a zing of lime juice. Garnish your bowl with slices of jalapeño, crumbled queso fresco, and finely chopped red onion for a colorful and flavorful feast that's as easy to make as it is satisfying.
Prep Time
Cook Time
Meal Type
Cook Method
Ingredients
| | |
| --- | --- |
| 2 | tablespoons olive oil |
| 1 | large onion, chopped |
| 2 | garlic cloves, minced |
| 1 | (14.5-ounce) can diced tomatoes |
| 2 | (15-ounce) cans HORMEL® Chili with Beans |
| 1 | large sweet potato, peeled and diced |
| ½ | cup chopped fresh cilantro leaves |
| 2 | tablespoons fresh lime juice |
| | Garnish: slice jalapeño, crumbled queso fresco, finely chopped red onion |
Directions
In large Dutch-oven, heat oil over medium heat. Add onion and cook 3 to 5 minutes or until translucent. Stir in garlic and cook 2 minutes. Add tomatoes, chili and sweet potato. Bring mixture to a boil. Reduce heat to medium-low and simmer 20 minutes or until sweet potato is tender. Remove from heat and stir in cilantro and lime juice. Garnish, if desired.